Hardwicke Circus to bring critically-acclaimed rock 'n' roll sound to pubs all over the UK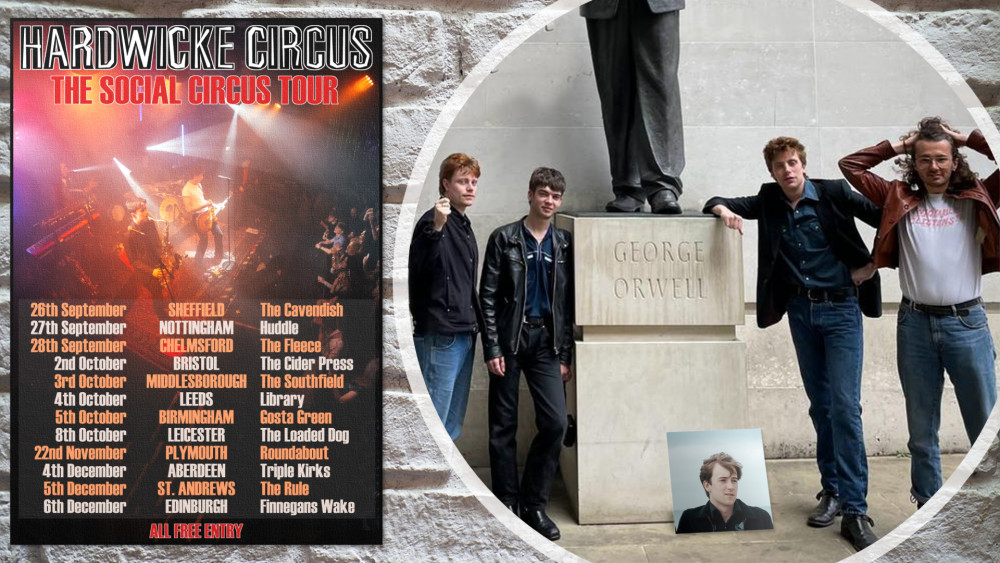 Hardwicke Circus will kick off their pub tour in Sheffield on September 26. (Credit: Hardwicke Circus and Pixabay)
Emerging rock 'n' roll band Hardwicke Circus is set to bring its unique sound to Stonegate Group pubs all over the UK this autumn.
The talented five-piece are quickly making a name for themselves as "the hardest working band in rock 'n' roll", thanks to their immense touring schedule.
Dubbed 'The Social Circus Tour', it will be the first time the Hardwickes have performed in many of the cities and venues on the route.
Lead singer Jonny Foster told Nub News: "We're trying to get to every corner of the country, and we want to win everybody over."
The Stonegate Group owns 4,500 pubs throughout the country. It has given the band a platform to perform in a wide range of venues.
Jonny said: "We're very grateful for it. There's a lot more to come!"
Hardwicke Circus discussed the idea of playing for punters in places they had never visited before, with the pub chain.
"It's been amazing," Jonny added.
"They've offered us all these gigs, before we go to the Czech Republic in October."
The Hardwickes will visit cities like Edinburgh and Bristol – places where they hope to carve out a whole new following of local fans. All the gigs are free entry.
Jonny continued: "We're a live band, this is kind of our lifeblood. I feel really lucky to be able to do these gigs.
"We're going to be playing in the places that other bands don't go to."
Tickets for 'The Social Circus Tour' can be bought via the Hardwicke Circus website.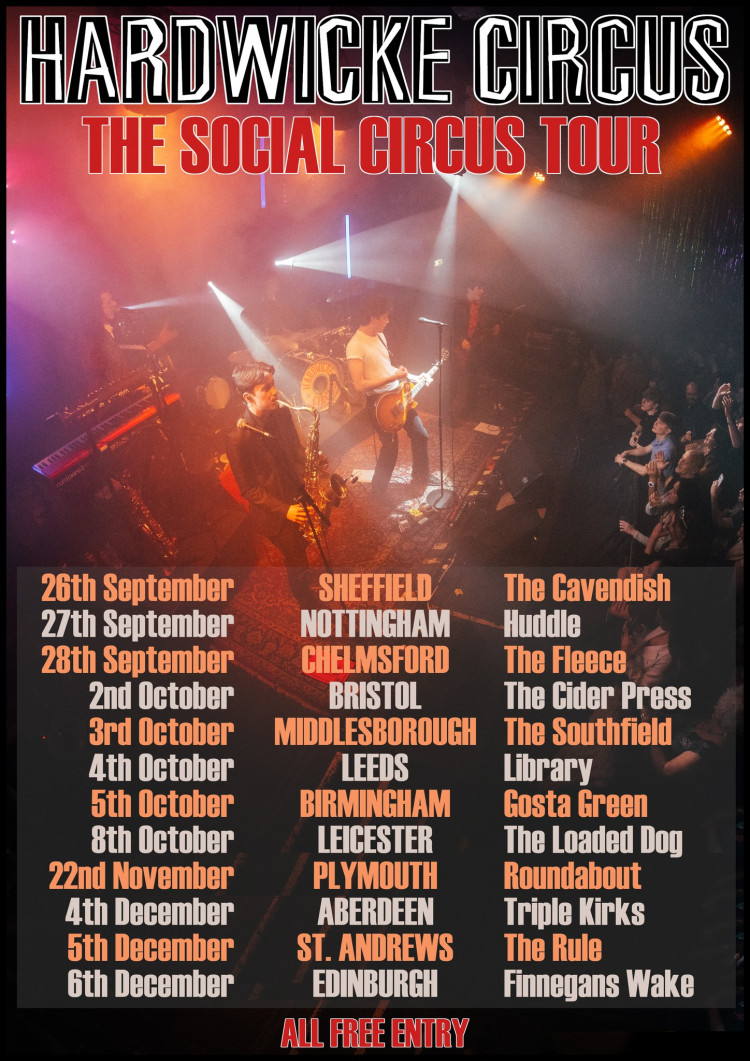 Find out when the Hardwickes will be coming to a pub near you, here.
Once they've finished their tour of pubs all over the country, the Hardwickes are off to the Czech Republic to play a sold-out 18-date tour.
The band hopes to play more shows at Stonegate pubs when they finish their Czech tour in November.
Meanwhile, the Hardwickes will release their latest single, 'Hits a GoGo', on October 6. A music video is also set to follow.
"It's a great track. The chorus is tongue-in-cheek, saying 'all we need are hits a go-go, but the verses are more reflective," Jonny added.
"It's a big idea put forward in a very positive way. I'm very excited – I think it's going to open a lot of doors for us."
Their latest album, Fly The Flag, was awarded a four-star rating by Mojo Magazine, saying: "The Carlisle quintet's second album rocks Dexy's-level dynamism: Motown dancers, E Street shuffles, baritone 'bom boms', stirring brass and ballads laced with romance and humour."
At its core, Nub News is about supporting local people, businesses, and artists. Hardwicke Circus is made up of five incredibly talented musicians, who are working for their fame the old-fashioned way. That's why we want to share their incredible story with our local readers.
New heswall Jobs Section Launched!!
Vacancies updated hourly!!
Click here: heswall jobs