Heswall travel agency to expand as globe trotting becomes easier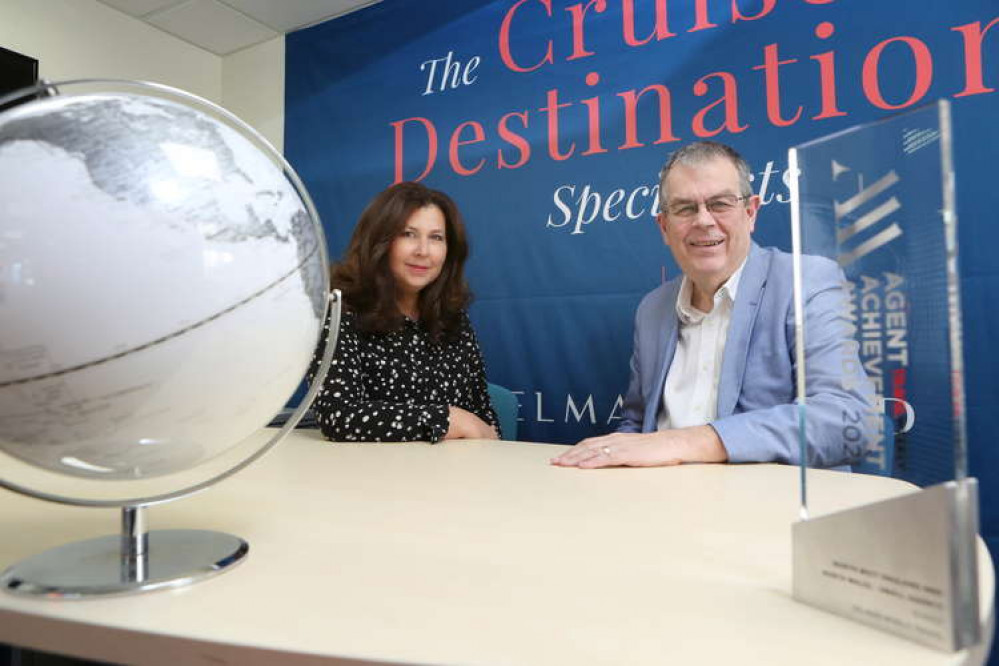 Ann Anglesea, Managing Director of Delmar World, with fellow Director Howard Davies
Changes to overseas travel rules have sparked a renewed push for jobs and growth at travel agency Delmar World on Milner Road.
The business, which has been operating since 1964, will be adding to its team after experiencing a marked upturn in interest for holiday bookings following the easing of international travel restrictions.
The family-owned travel business, which was named small agency of the year (North West England and North Wales) at this year's Travel Weekly Agent Achievement Awards, has launched a home-working division, and also placed office-based permanent hires back on the radar to help meet the increased demand for its services.
The new home-working department will help travellers not only find their next holiday, but also guide them through the changing laws mandated by international navigation during the pandemic.
The agency, which currently employs seven people, has set sights on expanding beyond the 14-strong staff the company employed pre-pandemic, with bookings for 2022 already totaling half of its pre-COVID yearly targets.
Delmar World managing director Ann Anglesea said: "Customers are wanting to catch up on seeing the world and we've had bookings gradually come in for areas further away which reflects how confidence in travel is returning over time.
"This increase in trust is now filtering through to us as it means the days of simply booking your trips online may be behind us and the role of the travel agent is coming back to the forefront.
"People are now reaching out to deal with professionals who not only are familiar with the changing rules and regulations of international transit, but also have the personal experience and knowledge when it comes to planning a long-awaited holiday.
"We've seen an upturn in interest since restrictions have lifted, which is why we are excited to launch a home-working division which will allow us to not only help more people lock in their perfect trip, but also contact accessible staff during evenings and weekends.
"Confidence in being able to take a well-earned holiday is vital, and our customers know that we will guide them through the process from beginning to end.
"With compliance to travel rules before and after departure becoming something which could jeopardise a holiday if not followed correctly, it is so important for our clients to trust us to ensure everything is lined up, so that way the only issue they have to face is the packing for the trip itself."
Delmar World, which also operates a Welsh branch in Gresford, focuses on tailor-made holiday itineraries which ensures customer preferences are reflected in their holiday experience.
The company also operates sister brand Perfect Cruises, which combines a wide variety of cruise lines with destination and voyage-focused programmes to deliver a holiday that is customised for each individual.