Were you or friends or family there? Charming film of Heswall Silver Jubilee in 1977
As we prepare for the Platinum Jubilee celebrations, cast your mind back 45 years.
June 7 1977 was the Silver Jubilee of Queen Elizabeth II. Many Britons shrugged off the austerity of the decade and turned out in force to party, not least in Heswall, which witnessed a parade of marchers and floats from across our part of Wirral.
An 8 minute movie shot by the late David Stanton on that summer's day is a great record of lives and times which somehow seem more distant than the calendar suggests.
(Please note, the film has no soundtrack, so don't worry if you can't hear anything.)
David described to me how the film came to be made: "I'd bought a Super 8 cine camera from a friend and needed things to try it out on.
"The pageant came down Telegraph Road so I set up about 30 yards on the other side of the road from where Sangs Chinese restaurant used to be.
"I'm pretty sure Round Table were the instigators of the event. I was in Round Table at the time, and a lot of the knights you see in the film were my fellow members. The police allowed traffic past but it had to go very slowly and keep well over. It was just one long procession.
"I actually can't remember that much about the day; it's just as well I filmed it.
"Then we moved to the Puddydale where they all finished off with barbecues and hot dog stalls and things for the children to do, like swings.
"I wasn't involved in the pageant itself, but I did say I'd record it for Round Table – and I don't think they ever got to see it!"
Well – we can all see it now. Thanks to David for shooting the footage in the first place, and to his son, Mike, for sending the digitised movie so we could upload it to youtube.
If you see yourself or people you recognise please let us know by clicking or tapping here.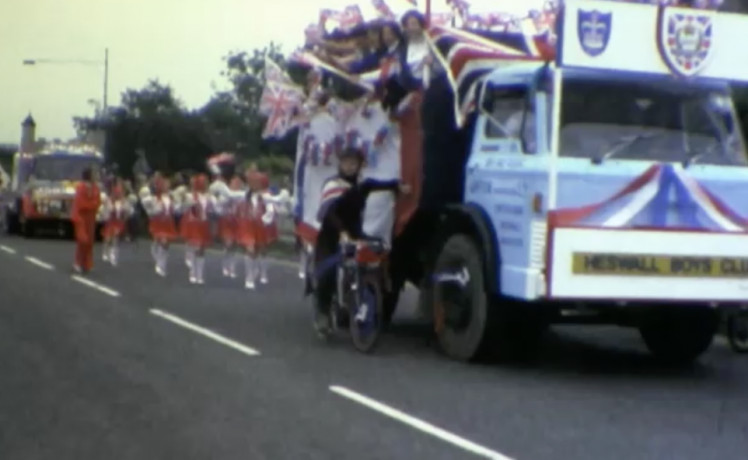 What else was going on in 1977?
- The Brit Awards were held for the first time.
- The last natural smallpox case was recorded.
- Marc Bolan died in a car crash.
- Red Rum won the Grand National for the third time.
- The Sex Pistols released the album, Never Mind the Bollocks.
- Star Wars opened.
- Virginia Wade won the Jubilee Wimbledon.
Here's wishing everyone a very jolly Platinum Bank Holiday weekend.