Tranmere Garden will be Wirral's largest hospitality venue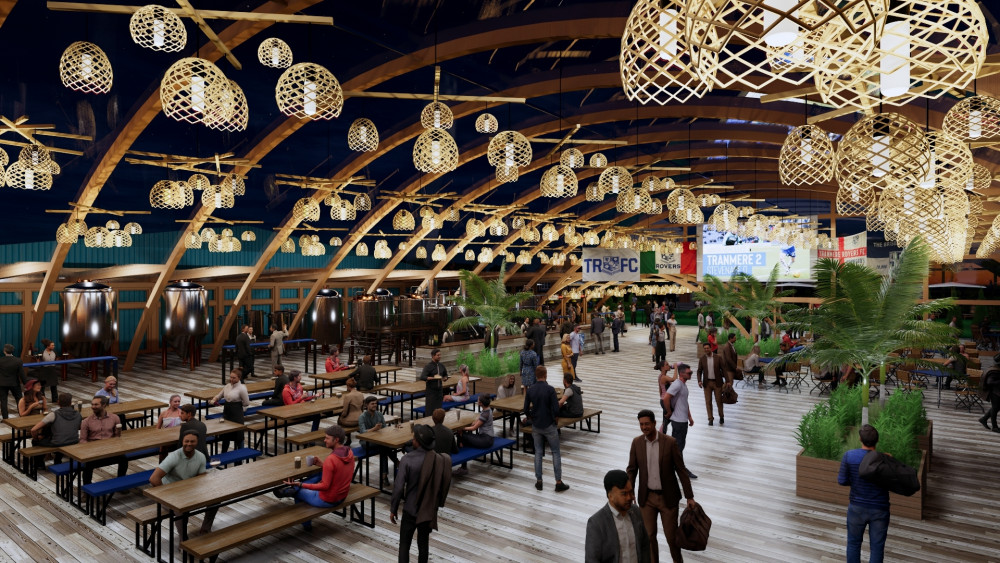 How Tranmere Garden might look
Construction work on £2m plans to build "Wirral's largest hospitality venue" is due to start next week.
The new Tranmere Garden is expected to open around the end of September right next to the Tranmere Rovers Football Club on the Wirral. Once open, it will be able to host up to 700 people.
The project has been funded by German Kraft and Northern Terrace with £600,000 being raised from fundraising events organised by Tranmere fans. The project will cost just under £2m.
William Franklin, Director of Tranmere Garden, said the project was a partnership between the club, the Tranmere Rovers trust, and the local community "all coming together to make this work."
Mr Franklin said that being close to the football club "means this is going to be an amazing experience for the fans both home and away" and "show genuine hospitality to those visitors."
He added: "This is part of the community of the Wirral. There are a number of things, The first is the hospitality it will provide here. It would be birthday parties, companies have been approaching us. Then there is the community side of this. It is an open space with step free access and people can come along and use it as a place to gather."
"By offering step-free access into a natural garden environment no matter what the weather, we encourage community groups such as mothers and toddlers through to care homes, charities and not-for-profit organisations to think about the space and how it may fit with their needs".
Construction will begin on April 24 with the first spades going into the ground on April 22 at an event with the Mayor of Wirral Jeff Green. It is hoped the venue will open fully with a major Oktoberfest event in September.
It's believed the venue will attract people to the WIrral with fans and inside will be an independent brewery producing beer as well as four food vendors. Offering 700 square metres of indoor space and 400 square metres outside, it has already received bookings including for St Patrick's Day 2024.
Mr Franklin said the community had been engaged with the project since 2021, adding: "We listened to what they wanted. People didn't want to go all the way to Liverpool for a night out. They wanted to spend it in their community.
"When people see money being invested in their backyard, they are going to want to spend money in their backyard."