Hits a GoGo: Hardwicke Circus releases a tongue-in-cheek bid for chart victory - listen to the single
On the back of their critically acclaimed second studio album, relentlessly touring rock 'n' roll band Hardwicke Circus has released a new single, 'Hits a GoGo'.
The Hardwickes are continuing to play at pubs all over the UK as part of their Stonegate Circus tour.
Drummer Tom Foster wrote the song, giving his view of the world. It features backing vocals by legendary rockers Nick Lowe and Graham Parker.
Check out Hits a GoGo by Hardwicke Circus below:
"I think this is the best Hardwicke Circus single yet," says lead singer and guitarist Jonny Foster.
"I think it's the strongest recording. This kind of puts a stamp on what the band is.
"It very much feels like the live atmosphere at one of our gigs."
Lyrically, Jonny says, the song is slightly tongue-in-cheek.
He told Nub News: "The chorus is 'all we want are hits a go go'. We want to be heard from Carlisle to Kuwait. We want to jump at every opportunity.
"Having played the song at live gigs, when it reaches the chorus, you see people's hands in the air, despite only hearing it for the first time."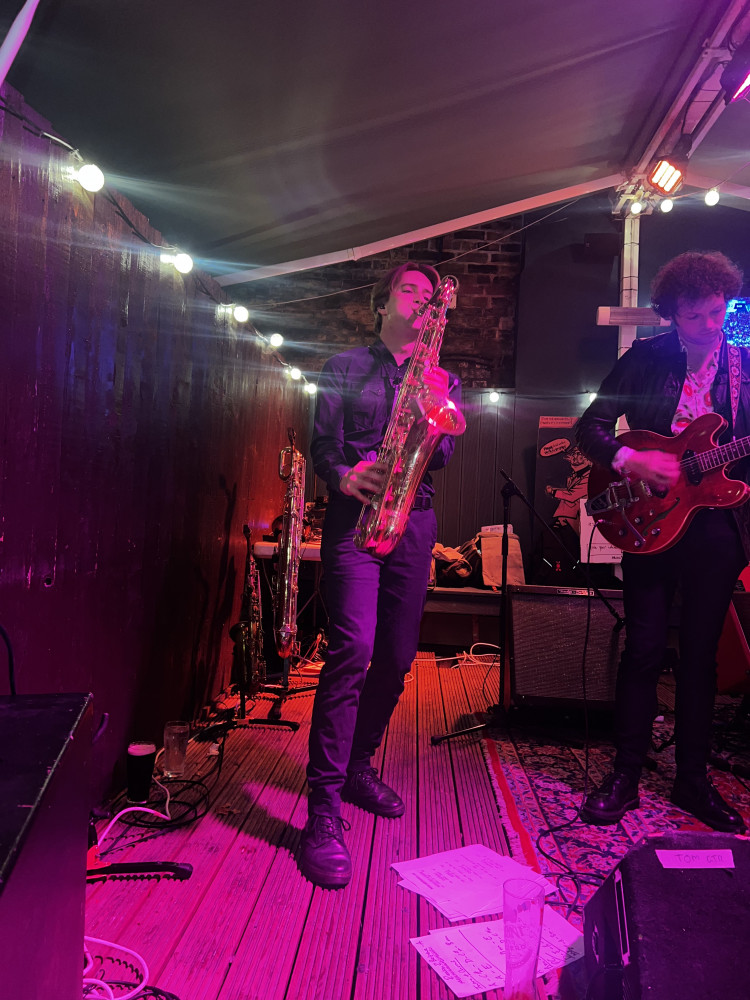 The five-piece has blown punters away at their Stonegate pub gigs. (Credit: Ben Shahrabi)
The verses are more contemplative, looking inward at what it means to be in a band, detailing the struggles they must overcome.
"It's kind of a deep lyric with a very positive musical arrangement", Jonny added.
From a commercial perspective, the band feels it could give them the chart success the song yearns for.
The Hardwickes have played all over the UK on their pub tour, visiting places they have never performed at before.
Jonny said: "It's been hugely beneficial. We've played in cities, venues and parts of town that don't really have live music. We've had such a great response from that, making new fans.
"Musically, it's also really good because we've been playing two 50-minute sets a night – with new songs, old songs, and re-arranged songs.
"Learning to adapt to different situations in new territories has been really beneficial for the band. It's made us more in tune with being on the road."
Their latest album, Fly The Flag, was awarded a four-star rating by Mojo Magazine, saying: "The Carlisle quintet's second album rocks Dexys-level dynamism: Motown dancers, E Street shuffles, baritone 'bom boms', stirring brass and ballads laced with romance and humour."
Next Friday (October 13), the Hardwickes are off to the Czech Republic to play a sold-out 18-date tour. The band hopes to play more shows at Stonegate pubs when they return to the UK in November.
Check out the band's critically-acclaimed sophomore album, Fly The Flag, below:
At its core, Nub News is about supporting local people, businesses, and artists. Hardwicke Circus is made up of five incredibly talented musicians, who are working for their fame the old-fashioned way. That's why we want to share their incredible story with our local readers.
New heswall Jobs Section Launched!!
Vacancies updated hourly!!
Click here: heswall jobs