Heswall's Daniel Craig - OK, maybe that's pushing it - receives significant honour from the Princess Royal
He attended Hilbre High School, began acting there, and acknowledged the encouragement he received from his Heswall based drama teacher - three very good reasons for this 'hyperlocal' news site to outrageously hyper claim the brilliant Daniel Craig as one of our own.
You can find out more about his Wirral past by clicking or tapping here to find a feature from last year.
Today Daniel Craig - arguably the best Bond ever to grace the timeless movie franchise - received the same honour as 007 - he was awarded a CMG for services to film and theatre.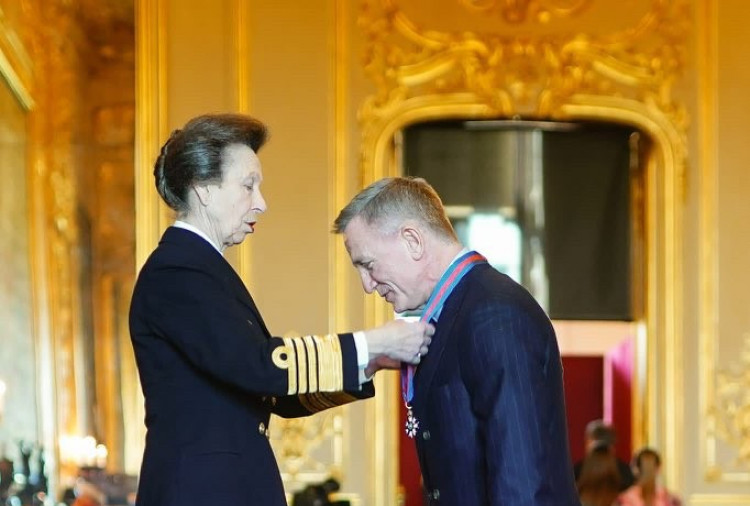 The Princess Royal and Daniel Craig
His CMG, awarded by the Princess Royal. made him a Companion of the Most Distinguished Order of St Michael and St George, means that Daniel will possess the same award as that made to Commander James Bond CMG RNVR, the character created by Ian Fleming back in 1953.
Daniel Craig starred in the last five Bond films, first appearing as 007 in 'Casino Royale' in 2006 and ending his run with 'No Time To Die' last year after the movie was delayed by the COVID pandemic.
This CMG is a nice touch, because it not only reminds us that this is an honour given to people who have 'given service of conspicuous national importance', but also that Daniel Craig brought layers of complexity and humanity to the character of Bond, which made his recent bowing out in 'No Time To Die' that much more memorable.
What's more, recipients of a CMG are entitled to put the letters CH after their names.
Daniel Craig doesn't strike Heswall Nub News as the sort of bloke who'd be bothered about such frippery, and he's probably had enough of similar Ms and Qs and 007s into the bargain.
As he steers his career in Bond-free directions, let's remind ourselves of the astounding contribution he - and the late Queen - made to the opening ceremony of the Olympics in 2012, a time of optimism and national pride we all yearn for in these troubled times.
It's at the top of this page.