Victory Days - a short film about Wallasey war artist, Captain Albert Richards
77 years ago the war in Europe had just ended.
This is a short film about a superlatively talented young man and fine soldier called Albert Richards, who was born in Liverpool in 1919 and grew up in Wallasey.
tWWIItter is a series of films that imagines how World War Two would have been recorded if the men and women who fought and endured it had possessed 21st century technology like smartphones and social media.
Bertie Richards was a young paratrooper and official war artist who jumped into France on D-Day in June 1944, fought in some intense battles, and then fulfilled his artistic duty by sketching his way through Europe, returning home on leave to paint striking pictures of combat and its consequences.
He attended the Wallasey School of Art and Crafts, and studied at the Royal College of Art before being called up in 1940.
His paintings are innovative, powerful and striking, particularly in their use of colour. They capture the preparations for the D-Day invasion of France, the aftermath of the airborne assault, and then the advance from France into other occupied countries.
It's hard to believe that while involved in a fierce campaign, he could be both fighting man and artist, finding time and the state of mind required to lay the ground for pictures that will always have much to say about the nature and reality of war.
Who knows what Bertie Richards might have achieved in the world of art?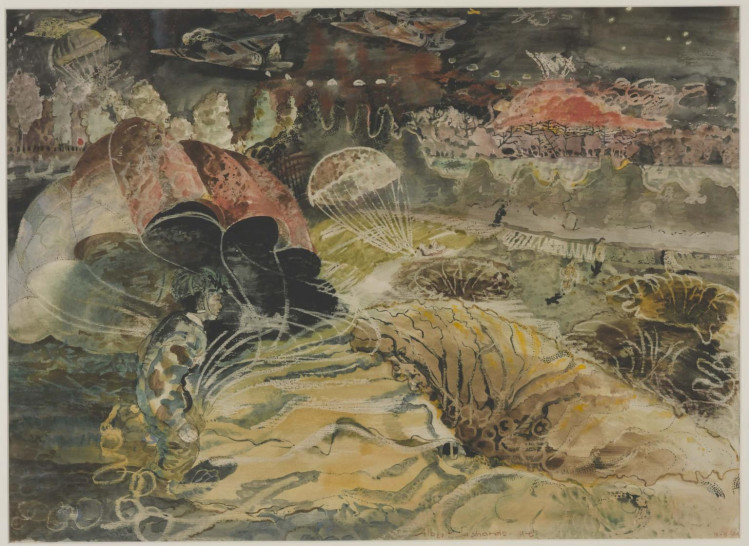 The Landing - H Hour Minus 6 - Tate
If you have 10 minutes to spare, please take a look at the film which you'll find at the top of this page.
It was written by Ged Clarke, a television producer and director who lives in Wirral and has been an admirer of Captain Richards' work for many years - and believes, as many do, that the young artist has never received the recognition he truly deserves.
Please note: it does include one sequence which some people may find upsetting.
I can also take this opportunity to offer special thanks for the enormous help of the Williamson Art Gallery, Birkenhead; National Museums Liverpool; and Polly Loxton.